NEWS & EVENTS
21 February 2023
Camden businesses & schools – take part in 'Green Dragon's Den'!
Please note due to teacher strikes this event has been moved to Friday 28 April.
The CCA and Think and Do Camden are organising a 'Green Dragon's Den' event for primary school students to pitch their sustainability project ideas to a panel of 'Green Dragons'.
We are looking for both Camden businesses – to create our panel of 'Green Dragon' funders and primary schools to take part and pitch their ideas!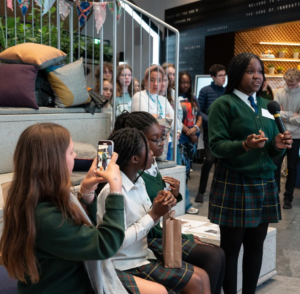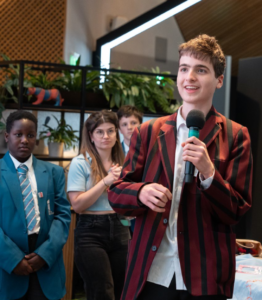 The aims of the project are:
To inspire students to develop sustainability projects for their school
To connect businesses with local school projects and deliver grants of £100-500
To inspire Senior Leadership Teams to get excited about embedding climate action across their school
To encourage students to become climate influencers in their school and equip students with the skills to plan a project and it's delivery and build confidence in presenting
To form a Dragon's Den ecosystem with students from other schools
Schools:
We are looking for  Ks2 students (years 4 – 6) to enter Camden's Green Dragon's Den to present their sustainability project idea to a panel of experts. Students will be given 20 minutes in total to deliver their pitch (10 minutes) and take questions (10 minutes) to present) from the dragon's
Students will need to be able to deliver their pitch confidently and give reasons for the project, why they chose it, who it will benefit and what they hope the project will achieve. Students can request a grant amount of £100, £300 or £500.
Each school will receive a pack of wildflower seeds for attending and presenting. There will be an additional prize for the most impactful presentation.
For schools unable to attend on the day written submissions can be submitted beforehand in order to be considered for grant funding.
A resource pack for teachers to help students plan their project proposals and practice pitching is available here: Green Dragons Den Resource pack. This also includes x3 1hr lesson plans to help work up the project.
Businesses:
We are looking for a number of Camden businesses to form our panel of 'Dragons' and provide funding grant amounts of £100, £300 and £500.
We are looking for a total of:
£500 – x2 grants
£300 – x7 grants
£100 – x4 grants
The event will take place on Friday 28 April at Troup Bywaters + Anders, 183 Eversholt Street, NW1 1BU.
There are two slots across the day: 10am – 12pm and 12.30pm – 2.30pm. Please express your interest for your preferred slot when getting in touch, schools will only need to attend one slot. When your school is not pitching their idea, students will be able to get involved with workshops during the slot that you are assigned.
Are you a school or business interested in taking part? Please email: info@thinkanddocamden.org.uk.